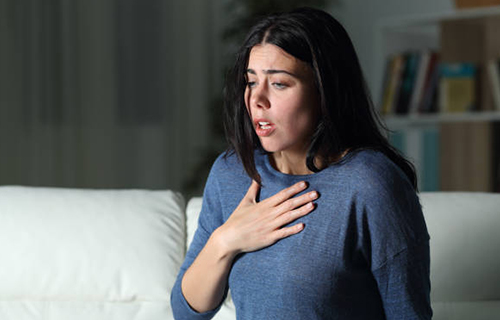 Effects of anxiety and pain on cellular respiration; Examining 2 types of fascinating neurons
The effects of anxiety and pain on cellular respiration may be very severe. Recent research has shown that breathing changes at the cellular level if you are worried or in pain. Salk scientists have discovered that a neural pathway connects breathing and negative emotions. Have you noticed that when you are under stress, worry, pain, or mental pressure, why do your breathing and heart rates increase? In the rest of this article, stay with the Neuroscience Network to introduce you to these effects.
Start investigating the Effects of anxiety and pain on cellular respiration.
In 2017, the Salk group focused on the lateral parabrachial nucleus. These are groups of neurons in the brain stem. These results showed us that the core neurons that send messages to the amygdala could increase the respiratory rate under pain or anxiety. Next, the shell neurons reach the pre-Bötzinger complex. (In this part, the breathing rhythm is created and adjusted.)
This coordination of behavior between core and shell neurons makes us feel that we need more breath when we are in pain or worry. Not only is this our general feeling, but this issue can be attributed to each of the body's cells.
These researches have made us understand the effects of anxiety and pain on cellular-level respiration and also caused some problems to be treated. Various types of research have been done that can even treat opioid-induced respiratory depression (OIRD).
This article states that the lateral parabrachial neurons can be the main ones responsible for regulating breathing. This research can help to stop the pain in the patient's body without stopping breathing, like OIRD. By inhibiting the core neurons and increasing the stimulation of the shell neurons, it is possible to prevent pain and keep breathing in its normal state.
How did these factors cause pain transmission and coordination of breathing?
Initially, this research was released by conducting various experiments on mice. These experiments found that the respiration rate can change if chemical agents and light are used. Placing fluorescent tracers in neurons could help us. One of the reasons people die from opioids is the combination of pain and breathing. Pain relief is suitable for users (though not too much!) but not suitable for breathing.
These substances can reduce both factors. This causes the user to experience a decrease in breathing rate in addition to reducing pain. If we can finish all the equations in our favor with a two-way mechanism, the best cures will happen.
Why is it essential to examine the Effects of anxiety and pain on cellular respiration?
In today's society, the fear of losing loved ones has increased. One of the causes of annual death in the world is opioid overdose. Usually, these substances make you feel the slightest pain. But if the values are higher, this may decrease the heart rate and breathing. Therefore, finding a way to target this mechanism selectively could further advance neuroscience worldwide.
Conclusion
In this article on the Neuroscience Network, we examined the effects of anxiety and pain on cellular respiration. We said there are two essential types of neurons in our human body; Shell and Core neurons. Each of these neurons has different uses. It is necessary to be able to disable one of the mechanisms or enable the other if needed. With this, providing the best treatments with minor complications is possible.